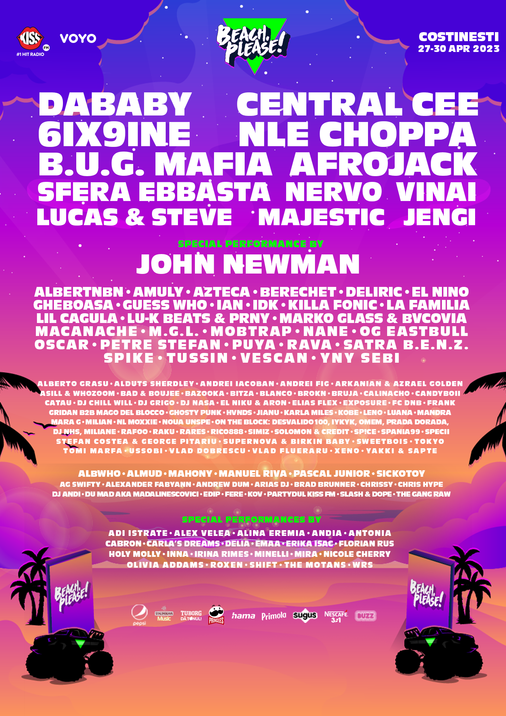 Exclusively on kooltix.com
BEACH, PLEASE! Festival 2023
The Beach, Please experience is getting even richer this year. Central Cee, 6ix9ine, DaBaby and NLE Choppa are coming to the biggest urban festival in Eastern Europe, along with the entire Roman
ian
hip-hop industry! Let the sand be your dance floor and sing the nights away to the greatest songs of our generation.
Trust the process. We'll guide you to the fullest musical experience.
Between April 27th and 30th 2023, Central Cee, 6ix9ine, DaBaby, and NLE Choppa, Ian, Oscar, Azteca, Bvcovia, and Marko Glass, M.G.L., Petre Stefan, Killa Fonic, Rava, Puya, Nane, Lil Cagula, Deliric, OG Eastbull and many others will hit the stage on the Costinești Beach.
The number of tickets is limited!
Beware! In compliance with our festival's guidelines, every attendee must have a 'nominal', personal and non-transferable ticket. At the festival check-in, this ticket must be presented together with a document showing proof of identity. Enter the full name of the attendee for each ticket you purchase.
Show more details