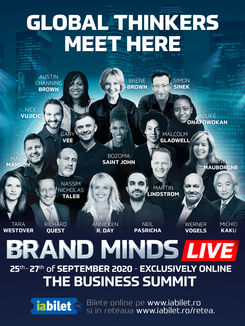 Brand Minds 2020 Live
25-27 September
BRAND MINDS LIVE - EXCLUSIVELY ONLINE.
A 3-DAY BUSINESS EXPERIENCE of PURE INSPIRATION;
18 WORLD FAMOUS EXPERTS that will deliver exclusive business insights, only for BRAND MINDS community.
Access to a COMPLEX NETWORKING PLATFORM with professionals from all around the globe.
You will receive the access code via e-mail in the shortest time.
Show more details